Sous Vide Eggs Benedict Pizza Recipe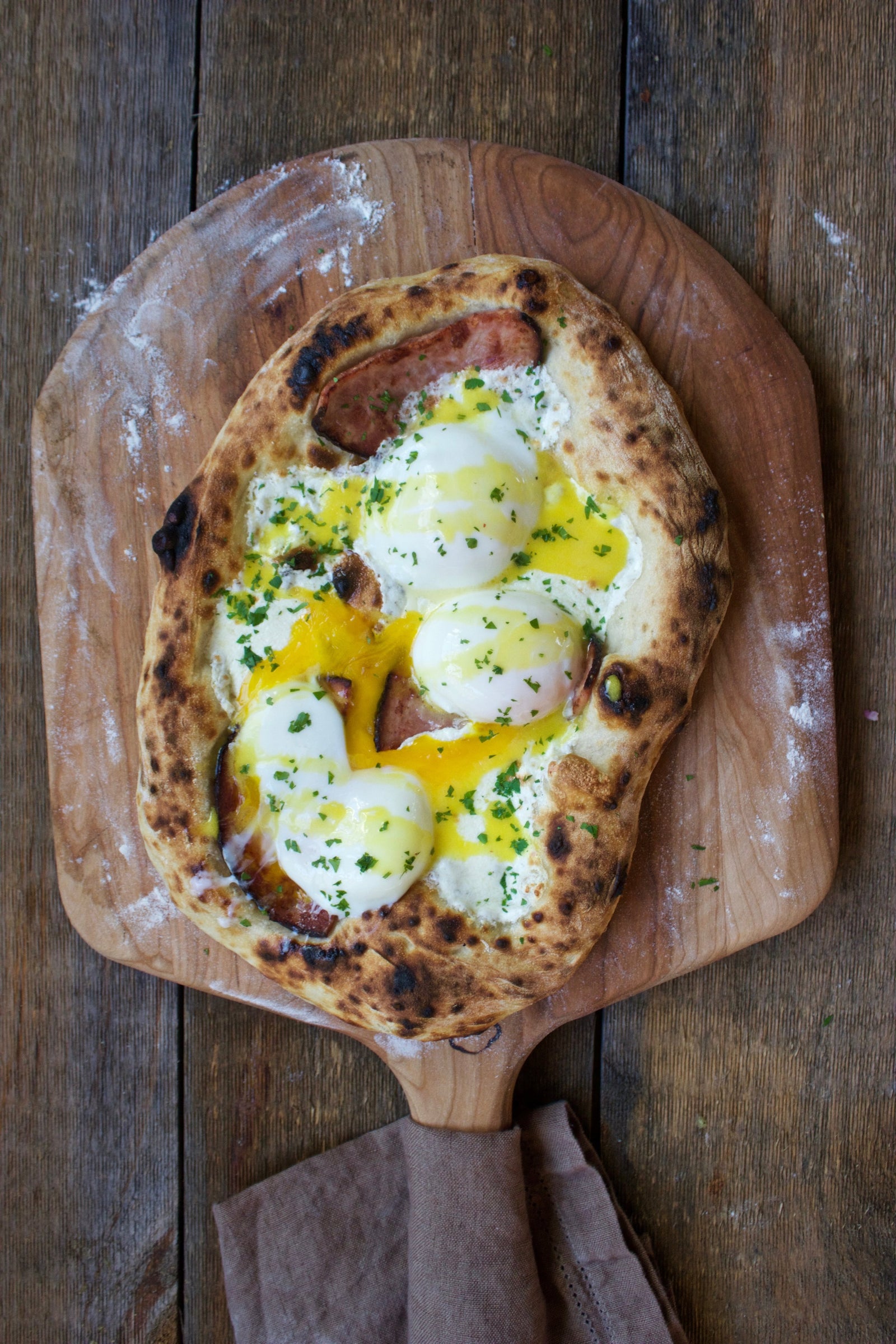 Sous vide eggs benedict pizza is a fresh twist on a breakfast classic.  We're using the traditional components, such as Hollandaise Sauce, but instead of poached eggs, we are using eggs cooked in a sous vide bath. The Canadian Bacon was seared on the Baking Steel Mini Griddle, and our "english muffin" is actually a 250-gram size pizza dough.  Take a break from the norm this weekend!  Our sous vide eggs benedict pizza is perfect for any Sunday morning brunch.  Happy Eating!   
Sous Vide Eggs Benedict Pizza Recipe
Ingredients
3 Sous Vide Eggs 
75 grams (2 oz.) fresh mozzarella
3 slices canadian bacon (cooked)
25 grams (1 tbsp) Hollandaise Sauce
Chopped Parsley
Hollandaise Sauce
2 egg yolks
juce from 1/2 lemon
salt
cayenne pepper
1/2 stick buter
Directions
1. Whisk together egg yolks, lemon, salt and pepper in a microwave safe bowl, add the melted butter and blast in the microwave for 15 seconds.  Set aside.
Sous Vide Eggs
1. Set water bath to 167 F, drop in eggs carefully. Cook for 13 minutes, remove.  Shock in cold water to stop the cooking. Set aside.  While the pizza is baking, place eggs in a bowl with hot water from the tap. We are warming the eggs for the pizza.
Pizza Directions
1. Place your Baking Steel on the top rack of your oven and pre-heat for 1 hour at 500F.
2. Stretch or roll out your dough to a 12 inch round and place on a lightly dusted pizza peel.  Lightly dusted with flour.
3. Switch your oven to broil.
4. Distribute fresh mozzarellla and 3 slices of pre-cooked Canadian bacon on the top.  Launch onto your Baking Steel and cook for 1 minute under the broiler.  After 1 minute, open oven and rotate pizza 180 degrees.  Continue on broiler for 1 more minute.
5. Switch oven back to bake or convection bake for 2 more minutes, remove.
6. Crack the sous vide eggs in a separate bowl, then place on top of pizza.  Try landing it directly on Canadian bacon.  Do this for all three eggs.  Season with S & P.
7. Using a spoon, carefully drizzle Hollandaise Sauce over the eggs.  
Enjoy,
Andris
---