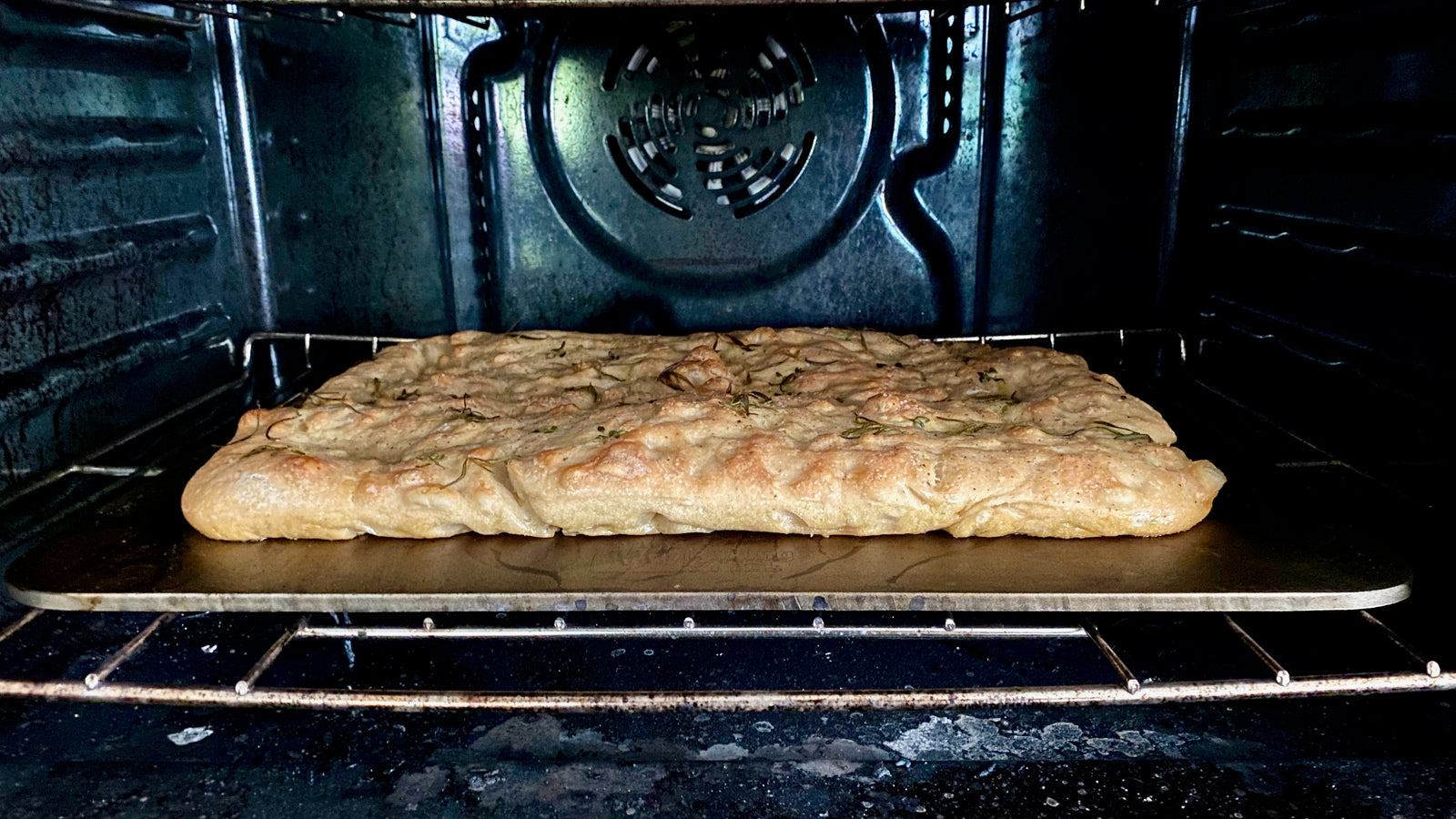 Focaccia must be one of my favorite breads of all time. I didn't know too much about it until I went to culinary school at the CIA and took fondly to Italian Cuisine. It is such a simple bread yet so versatile. It can be used simply as just great bread for the table, to slap a sandwich or panini together, to even great pizza. We found the latter, quite delicious with our version cooked on the steel. We made a much bigger dough ball, treated it the same way we do with our 72-Hour Dough and slapped it on a nicely olive-oiled sheet tray to proof.
Oil is a key ingredient in focaccia. We decided instead of adding oil to the dough in the mix, to add it in the cook instead. We punched down the dough with our fingers to give that classic focaccia look, topped it with some classic Italian ingredients and gave it a bake. (pizza came out great with it too!)
The Ultimate Focaccia
Ingredients
Double batch of 72 Hour Dough Recipe
1 bunch mixed herbs (rosemary, thyme, oregano, sage, etc.)
1 clove of garlic, thinly sliced
Olive oil (lots!)
Salt and pepper
Procedure
1. Preheat your oven at 500F with your Baking Steel on the bottom rack
2. Place large dough ball on an oiled sheet tray. Coat top with olive oil, cover with plastic wrap and rest for 1-2 hours.
3. Meanwhile, chop/snip herbs and garlic for topping.
4. After dough has rested, press and stretch to fill the entire sheet tray.  Dump a decent amount of olive oil (maybe 1/2c) on top of dough.
5. Continue to press and make some nice looking nooks throughout the entire dough.  Season with salt and pepper.  Distribute herbs and garlic all over the top surface.  Press in these babies. 
6. Launch sheet tray on top of Baking Steel and bake for 12-14 minutes. Remove bread from tray and launch loaf directly onto steel to crisp up the bottom even more! Remove, let cool.  Slice and serve...
---